20 April 2016
Tejoori Al Islami Welcomes Winners in its First Draw for Grand Prizes for 2016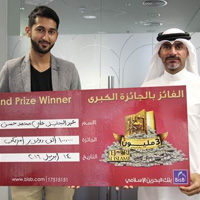 Bahrain Islamic Bank (BisB) has welcomed the winners of its first draw for grand prizes forTejoori Al Islami Grand Prize for the year 2016.
Participating in the welcoming ceremonies were a number of the Bank's Managers, led by Mrs. Fatima Al Alawi, Assistant General Manager for Retail Banking, Mr. Sharif Maraghi, Head of the Local Branches and representatives of the concerned departments of the Bank.
During the reception ceremonies, the following prize winners were honoured:
A JALIL ALI MOHD HASAN - 100000$
SAHAR FATHI A NABI MURSI - 100000$
ANESA YOUSIF ALI AL SAMMAK - Jewellery
NADERA ALI ALI NAQI - Jewellery
FAEZA EBRAHIM RABEEH SENAN AL DOSERI - Jewellery
MARWA MOHAMED HANEEF ABDULLA AL AWADHI - Jewellery
ZEBA YASMEEN ZULFQAR HUSSAIN - Jewellery
NADIA MOHAMED AHMED ABDULLA - Jewellery
LATIFA MOHAMED HUMOOD MOHAMED ALKAABI - Jewellery
ZAHRA HASAN ABBAS MAKI - Jewellery
FAREEDA MOHAMED ABDULLA MOHAMED - Jewellery
NAHED MOHAMED SHARIF A/C FAYSAL - Jewellery
EMAN SHAWQI AHMED MOHAMED - Jewellery
ZAHRAA AHMED ABDULLA HASAN - Jewellery
Commenting On this occasion, Mr. Abdul Rahman Mohammed Turki, General Manager, Retail Banking Services of Bahrain Islamic Bank, said: "In my name and on behalf of all the Bahrain Islamic Bank's staff, we would like to congratulate our customers winning in the first Tejoori Al Islami grand draws for the year 2016, wishing them all success and more wins in the next weekly draws."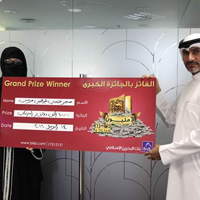 Mr. Turki added: "Tejoori Account began its journey with the customers in the year 2016 by offering an array of weekly cash prizes for all customers of different categories, in addition to a number of precious jewellery offered in association with Al Koohei Jewllers to the customers of "Tejoori Laha," which will have a positive impact on lucky winners. In this year, we have made a number of positive changes in structuring the Tejoori Account draws, mainly changing the investment period to qualify for weekly draws to be 7 days only instead of 30 days in order to benefit the largest segment of the customers possible. We will, God willing, continue to develop and improve the account in order to keep abreast with the requirements and needs of our esteemed customers."
For their part, the male and female winners in the First Grand Draws for the Tejoori Al Islami Account for the year 2016 expressed deep thanks to Bahrain Islamic Bank for the valuable offers which the Bank continues to make to its customers since the account was launched in the year 2008. They also expressed the hope that the account will continue to be developed during the campaigns in the coming years.
Mr. Abdul Rahman Turki concluded his statement, saying: "Tejoori Al Islami Account customers will have double opportunities in the year 2016 to win in their respective customer categories listed under the account. They invited the public to join the list of lucky winners of Tejoori Al Islami Account by participating and investing their amounts in the account beginning today. The longer their amounts are invested, the more chances of winning they will have, according to an automatic accounting system designed especially for the remaining three grand Tejoori Al Islami Draws for this year. Our customers can contact us and inquire about Tejoori Al Islami Account and valuable prizes, which the bank offers, by calling the Call Centre on Telephone 17 515151, visiting the nearest branch or by visiting the Bank's web-site: www.bisb.com. We wish success to all."
Back