26 May 2019
"Dana" The First Virtual Employee joins BisB Team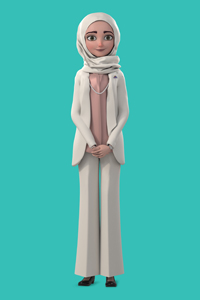 Bahrain Islamic Bank (BisB), the leading provider of Integrated Islamic banking services in the Kingdom of Bahrain, has announced the appointment of its first digital virtual employee, named "Dana", who will be setting measures and instilling creative methodologies to ensure the BisB's portfolio products and services are developed innovatively simple. This is in line with BisB's objective to simplify customers' money matters by enabling them to conduct their daily transactions with the ultimate ease and convenience.
"Dana" will be taking the lead in enlightening the public with general information on the Bank's products and services, digitally providing tips and insights on Fin-Tech and financial trends, supporting the Bank's aim to improve their engagement and interaction with customers across BisB's digital platforms. This revolutionary step demonstrates the Bank's success in its strategic efforts to transform its business approach, by providing leading and innovative financial solutions to its customers, contributing to the development of the Kingdom's financial industry at large.
Chief Executive Officer of BisB, Mr. Hassan Jarrar, said, "Dana is our first "virtual Bahraini employee". This milestone is a step in a long journey of continuous improvement and discovery for BisB in trying to transform the culture of the Bank into one of innovation and technology. In our journey, we strive to emulate how technology companies think and act. Our ultimate goal here is to make banking with BisB as seamless and pleasant as the use of a smart phone."
BisB constantly strives to deploy cutting-edge digital platforms and offer innovative customer-centric products and services. The Bank's strategic values revolve around embracing and expanding the digital mindset, inspiring a culture of continuous learning and swiftly evolving to meet the demands of today's modern financial landscape in order to further cement its position as an industry leader in the region.
Back