26 October 2020
BisB Supports AAOIFI's 18th Annual Shari'ah Boards Conference as a Silver Sponsor
Bahrain Islamic Bank (BisB) has announced its Gold sponsorship of the Accounting and Auditing Organization for Islamic Financial Institutions (AAOIFI) 18th edition of the Annual Shari'ah Boards Conference, held virtually on 25th and 26th October 2020 under the auspices of Central Bank of Bahrain. The event is considered to be one of the top Islamic banking conferences, bringing together a prominent group of Shari'ah scholars, decision makers and senior representatives from regulatory and financial institutions to shed light on various topics related to the Islamic financial industry worldwide.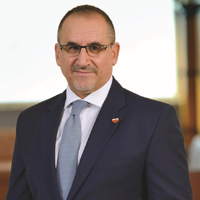 The two-day conference features keynote speeches in addition to four panel discussions which focused on AAOIFI Shari'ah standard 36 "Impact of Contingent Incidents on Commitments" in the light of COVID-19, the impact of adopting an alternative indicator to LIBOR for Islamic financial transactions, Shari'ah standard 59 "Sale of Debt" (Bay'al-Dain) and its impact on Islamic finance industry in addition to the role of technology in the post COVID-19 world.
Commenting on this occasion, Chief Executive Officer of BisB, Mr. Hassan Jarrar, said, "It gives us great pleasure to sponsor AAOIFI's 18th Annual Shari'ah Boards Conference, an event that brings together Shari'ah scholars, esteemed professionals and decision makers from the financial banking industry every year. This year's edition provided insights and discussions related to the impact of COVID-19 on the Islamic financial sector; it also explored ways of maintaining its momentum and elevating its standards on a global level."
Established in 1991 and based in Bahrain, AAOIFI is the leading international nonprofit organization which has issued a total of 100 standards in the areas of Shari'ah, accounting, auditing, ethics and governance for international Islamic finance. AAOIFI is supported by several institutional members, including central banks and regulatory authorities, financial institutions, accounting and auditing firms, and legal firms, from over 45 countries. Its standards are currently followed by leading Islamic financial institutions across the world and have introduced a progressive degree of harmonization of international Islamic finance practices.
Back