03 September 2019
Bahrain Islamic Bank (BisB) Wins 'Most Innovative Digital Transformation Initiative' for the Year 2019

Bahrain Islamic Bank (BisB), the leading provider of integrated Sharia compliant financial solutions in the Kingdom of Bahrain, has emerged as the winner of the prestigious 'Most Innovative Digital Transformation Initiative' for the year 2019 from Global Business Outlook.
Bahrain Islamic Bank (BisB) sees its core responsibility to help drive the industry's digital evolution while elevating the living standards of the nation as a result. Over the past few years, BisB has led the way for the industry's digital transformation, pushing the boundaries with its adoption of advanced technologies to enhance the customer experience and elevate the standards of banking in the Kingdom.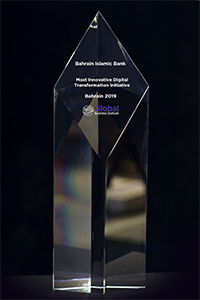 We are honored to receive this award from Global Business Outlook in recognition of our efforts to invest in digital technology and innovation to meet customer needs. Launching innovative products and solutions is in line with BisB's efforts to digitize all operations in a bid to stay ahead of the current market trends and maintain its position at the forefront of the banking industry during the digital era. We're proud of our milestones and look forward to achieving many more successes over the coming years," said the Chief Executive Officer of BisB, Mr. Hassan Jarrar.
Over the past two years, BisB launched a number of innovative products and services, including BisB Digital, BisB Corporate Digital, an in-house Innovation Lab, and its fully-fledged digital branch allowing customers to perform various banking activities through the use of a dedicated self-service kiosk. In March 2019, BisB also unveiled its digital virtual employee named "Dana".
Back