03 November 2020
BisB's Head of Information Security Named 'Continuity and Resilience Professional (Private Sector)' during Business Continuity Institute Middle East Awards 2020
Bahrain Islamic Bank's (BisB) Head of Information Security, Mr, Mohammed Isa Hammad, was recently named 'Continuity and Resilience Professional (Private Sector)' during the Business Continuity Institute (BCI) Middle East Awards 2020, which was held virtually on Thursday 1st October 2020.
Chief Executive Officer of BisB, Mr. Hassan Amin Jarrar, said, "Our sincere congratulations go out to Mr. Mohammed Isa Hammad for leading his team to this remarkable achievement. This award is a reflection of the Bank's continuous efforts to promote a culture of continued learning and innovation, encouraging our people to excel in their roles, and a testament to our ability as a Bank to adapt rapidly and respond to changing circumstances while ensuring business continuity in light of the challenges posed in 2020."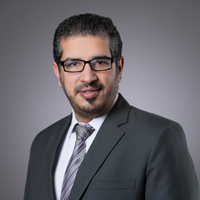 Head of Information Security at BisB, Mr. Mohammed Isa Hammad, added, "I am truly honoured to have received this award from the Business Continuity Institute. This award comes as a result of a team effort and ongoing collaboration across all the Bank's departments to ensure that our business continuity management systems are developed to withstand any incident, disruption or emergency that may arise."
BCI is an international organisation that defines best practices in the field of business continuity and resilience. The BCI Middle East Awards 2020 recognise the outstanding contributions of business continuity, risk and resilience professionals and organisations living or operating within the Middle East region. The winners, who are honoured annually, were chosen based on the selection of a panel of judges consisting of professionals and prominent individuals from within the continuity and resilience industry from around the world. Regional winners are also nominated for the BCI Global Awards.
Back