24 December 2020
BisB Wins 'Best Product Launch' and 'Best Internal Communications Campaign' at MarCom Awards 2020

Bahrain Islamic Bank (BisB) recently received two Gold Awards for the categories of 'Product Launch' and 'Internal Communications Campaign' at the 2020 MarCom Awards, which honour excellence in marketing and communication while recognising the creativity and hard work of industry professionals.
The 'Product Launch' category was awarded in recognition of the Bank's End-to-End Mobile Account Opening Through Face ID Authentication feature, which was launched for retail customers through the Bank's Self-Service kiosks installed across all of the Bank's branches and Financial Malls.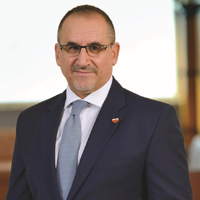 The Bank was also awarded as a Gold winner of the Best 'Internal Communications Campaign' in light of BisB's proven innovative corporate culture and progressive environment, which fosters constructive conversations and discussions which were instilled in order to engage with employees in a work culture that inspires creativity and knowledge sharing.
"We have maintained progress in spite of the challenges posed by the ongoing COVID-19 pandemic, which has never dulled the efforts and unwavering dedication of our teams. If anything, the pandemic has inspired us to maintain our agility, commitment to innovation and towards providing a transformative level of customer service at BisB," said the Chief Executive Officer of BisB, Hassan Amin Jarrar.
He added, "These milestone achievements are a reflection of our resilience. Receiving the international and prestigious MarCom Awards is a testament to the creativity of our internal communication efforts, which have played a major role in the success of BisB and contributed greatly to the overall morale and level of productivity. We remain committed to launching cutting-edge digital innovations throughout the year to simplify our customers' money matters, turning traditional banking of days past into a seamless experience."
The MarCom Awards were first launched in 2004 by the Association of Marketing and Communication Professionals (AMCP) consisting of marketing, communication, advertising, public relations, digital and web professionals. They are held annually to recognise the best works in marketing, communication and digital media.
Back