20 August 2019
BisB Honors Fastest Online Finance Top-Up Customer in the Bank

Bahrain Islamic Bank (BisB), the leading provider of integrated Sharia compliant financial solutions in the Kingdom of Bahrain, recently honored Mrs. Manal Abdulla, the fastest Top-Up customer in the bank, who took only 1 minute and 44 seconds to top up her finance online on the BisB Mobile App without visiting the branch.
This follows on from BisB's launch of the 4 minutes Online Personal Finance Top-Up solution and is in line with the Bank's mandate to simplify customers' money matters. This service is provided through an accurate system that calculates additional financing that can be offered to the customer based on their monthly income and obligations.
On this occasion, the Retail General Manager of BisB, Ms Dalal AlQhais stated: "We are continuously seeking new methods to simplify our customer's transactions and give them innovative solutions that make their daily lives easier, keeping pace with the latest industry trends. We invite our current customers to try this new service which can go a long way in simplifying all their transactions."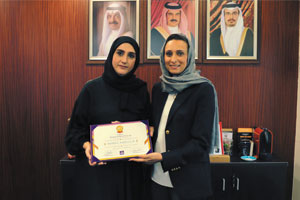 The Online Finance Top-Up service on BisB Digital App is known for its accuracy and speed due to the availability of all the personal information of the customer. It instantaneously calculates the extra financing the Bank can provide to its customers based on their income and monthly financial commitments.
Since 2016, BisB has been working on the development of its mobile banking application as part of its greater strategy to automate its operations and completely transform the traditional banking experience for its customers through a digitized and seamless process, further solidifying the Bank's leading position in the sector.
Back