26 August 2020
Bahrain Islamic Bank Wins Award for 'Best Corporate Social Responsible Bank – Bahrain' and 'Most Innovative Retail Bank Product – Bahrain'

Bahrain Islamic Bank (BisB) announced that it has recently emerged as the winner of the prestigious awards for 'Best Corporate Social Responsible Bank – Bahrain' and 'Most Innovative Retail Bank Product – Bahrain', for the year 2020 from International Finance Magazine (IFM), a publication that recognises and honours organisations that have developed innovative products or services that have set benchmarks for their peers across a variety of fields, including Business & Finance, Real Estate, Telecom, and Oil & Gas. This award highlights the number of initiatives and contributions that the bank has put forward throughout the year.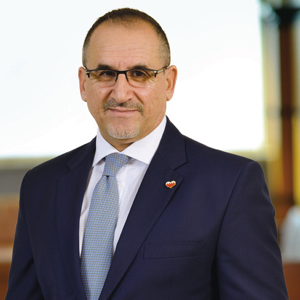 In light of its ongoing commitment to support the community, BisB continues to engage with the local community through a series of CSR initiatives under the umbrella of 'Jood', which focuses on education through innovation and investing in the Kingdom's youth. Various CSR initiatives were launched in collaboration with the public and private sector as part of the Bank's efforts to create a future-ready workforce.
Furthermore, and in recognition of the Bank's efforts to deliver on its promise of simplifying customers' money matters, BisB was bestowed the 'Most Innovative Retail Bank Product – Bahrain' for its 'End-to-End Mobile Account Opening' digital service which provides customers with an opportunity to open an account with BisB via face ID authentication through the Bank's mobile application or the Bank's self-service kiosks located across its branches and Financial Malls in a fully automated process without any paperwork or human interaction requirement.
The Chief Executive Officer of BisB, Mr. Hassan Amin Jarrar, said, "We are delighted that our efforts and CSR initiatives are being recognised, confirming our ongoing commitment toward building a stronger relationship with the community in which we operate, and truly making a notable difference. We also remain committed to partnering with the community and strengthening cooperation with various entities and institutions in the Kingdom of Bahrain, in line with 'Jood', in order to launch various initiatives that focus on innovation and education with an aim to foster an empowered workforce equipped with the pre-requisite skills to shape them into the entrepreneurs of tomorrow, and the future leaders of the banking industry,
"We are also honored to receive the 'Most Innovative Retail Bank Product – Bahrain' award in recognition of our efforts to digitise all operations and transform the traditional customer experience by launching innovative products and services with an aim to simplify their money matters. We're proud of our achievements and look forward to accomplishing more milestones over the coming years," he added.
Back