A Simplified Formula for CSR
16 June 2019
By Hassan Jarrar, CEO, Bahrain Islamic Bank
Giving back to the community is not new to the Arab region. Social consideration was inherent to Bedouin culture and evolved as a means of survival. Nomadic tribes used to maintain strong relations with one another and cooperation was vital for the community to collectively thrive. In fact, our traditions of philanthropy and generosity are deeply engrained in our culture and our religion.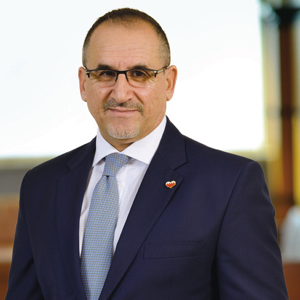 Most organizations in this region are doing their part to be socially responsible, more so now than say a decade ago. The traditional approach to 'giving back', which used to be in the form of cash donations, or some form of charity, has transformed and evolved into more substantial, long-term campaigns and initiatives. What once was used as a shield for negative PR is now being embedded within corporate cultures to drive progress.
Yet, the fact remains that when business executives are seated around a board room table, with heated topics on the agenda such as profit and loss, CSR becomes an afterthought. Truth be told, this was exactly us until about a year ago. And I'm not talking about the small 'acts of kindness' towards the community. I am talking about proper, strategic, sustainable, impactful programs with tangible results. Of which we had none.
Personally, I believe that because so much emphasis has been put on what is considered 'acceptable' or 'impactful' CSR, companies feel overwhelmed that they have to pull off these huge campaigns, and are somewhat discouraged by the financial consequences. But this shouldn't be the case.
Last year we decided to take a new approach to BisB's CSR efforts; we always had the desire to make a difference but we lacked focus. As a first steps, we knew we wanted to be inclusive and specific. So we made it a point to announce it to all our employees and together we agreed on the name 'Jood' – opting for a simple, relevant name, and the Arabic word for "giving" and "generosity" was a natural fit.
We set up a CSR committee made up of the Bank's volunteers, and began to brainstorm how to narrow down the focus of 'Jood' to make it more specific, strategic and attainable. We looked at what the community needed and what BisB could offer in terms of knowledge, financial support and time. It also had to suit our values and make sense to our business. After a good deal of discussion and research we finally decided on 'education' and 'innovation' as our two guiding pillars.
Bahrain is nothing short of human talent; and the financial landscape has risen to the challenge of establishing an entrepreneurial ecosystem, bursting with innovative bright young minds and oozing with bold ideas. Add the FinTech revolution to this equation, and there is a clear need for a solid support system to help nurture the SMEs and starts ups, and foster their growth. The fact remains that although Bahrain's start-up ecosystem is booming there are still a great number of start-ups that fail to get their feet off the ground.
So we decided 'Jood' would be our vehicle to help the young, passionate, innovative youth, by giving them the required tools and knowledge, helping to shape the entrepreneurs of tomorrow, and the future leaders of our industry. Now the challenge was HOW?
Just the other day, when we sat at our offices with the young start up team that won Mashroo3i's' Social Innovation Award, 'Team Pollom' - a CSR initiative that BisB sponsored, we realized how much simpler CSR would be if we factored in 'communication'. Team Pollom developed an extremely creative idea which we were ready to finance. But within minutes of the meeting, they made it very clear that they were not looking for cash. They wanted a mentorship arrangement, for BisB to support them through the next stage of their business cycle, as business consultants. They knew exactly the type of support they needed, and surprised us all. It makes so much sense. At the end of the day, who better to tell us what a company needs than the founders themselves?
It was during this simple meeting where I realized one of the main obstacles to proper CSR is a lack of conversation at every level; there is a communication gap between corporates and those they are trying to help, and an even bigger gap between corporates themselves across industries.
Perhaps by having more open discussions with one another, exchanging knowledge through open dialogues, we can eliminate the fear of 'CSR' and begin to better understand the unique role each and every industry player can take on, and how to utilize our strengths to collectively uplift the community. Similarly, maybe talking directly to the community and asking them what they need would make life easier and make CSR efforts more impactful.
If we act as collective support system, we can create a sustainable formula for success. It's like the age-old saying goes, 'Give a man a fish you feed him for a day, teach a man to fish and you feed him for a lifetime.'
Back