BISBArticles&OpinionPieces
Articles and Opinion Pieces
Invest in Your Culture to Sustain Your Brand
06 May 2019
By Mahmood Qannati, Head of Marketing, Brand & Corporate Communications, Bahrain Islamic Bank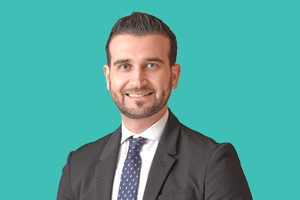 A few weeks ago, we launched our refreshed logo at #BisB, an event to commemorate the Bank's 40-year journey. It was the perfect time to complement the Bank's bold new direction. We opted for some cosmetic changes, a few touches here and there to revive the logo so it can better represent the BisB of the future. I remember being asked why not opt for a complete re-brand overhaul? Surely it was the right time. And my answer was this: a deep-rooted brand is irreplaceable.
You see, a successful brand is not about having a better look and feel; it is all too easy to hire a creative consultant to slap on a new striking logo. In reality, a brand is worthless if it doesn't reflect the true identity and values of the company and its people. And if it doesn't reflect the culture it represents.
People often refer to 'leading' brands in the likes of Google, Apple, or Coca-Cola. These brands have been successful because they are a true representation of their culture and innate value system.
In my opinion, brand identities should be sustainable; they should withstand the test of time, they should be an honest reflection of what the brand stands for and its promise to its people, its customers and everyone it touches. A brand identity should stem from within, from the people that make the brand. Otherwise it will never be truly accepted.
About a year ago, as BisB was rolling out its change strategy, we considered re-branding. We were about to mark 40 years in the industry, take on the world of digitization and shift to a truly customer-centric model. Transformation was necessary to keep with the times. Surely there was no better time to reinvent ourselves.
Before rushing to share any briefs with branding agencies, we took a step back and decided to conduct our own internal health check and come up with our own diagnostics. We set forth on a journey of self-discovery and honest reflection; and no one would have been more honest than our employees. So we made our employees the central part of the process. We reached out to staff from across every location, branch and floor, asking them to describe how they see the Bank, what they associate it with and what they want to see in the future BisB.
This was a challenging exercise, but in hindsight, it was worth the effort; what we discovered was that in our effort to evolve the Bank, drive digitization and transform the customer experience, we had slightly lost sight of our values and the culture that was once the glue that held us together. Yet, despite the issues that came to light, every single employee said that being at BisB was like being 'part of a family'. Their loyalty to the BisB brand was strong, un-quavered; we just needed to tighten the common threads and build on our shared values, what would eventually become the foundations of our new Brand DNA.
The next steps saw us narrow down our values to what was most dear to us, until we had four fundamental pillars to build on: "Bahrain-ness", "Banking Re-imaged", "Start-Up Mindset", and "Social Innovation"; four pillars that would unite us and guide us on our path of transformation. We wanted to "re-imagine" any customer issue by connecting people to the right solution, using a "start-up mindset" that would further fuel the ecosystem of continuous learning and development, encouraging our employees to harness their creativity and strive for growth. We also wanted to reiterate our commitment to the community through the pillar of 'Social Innovation'; simplifying the act of giving back which truly lies at the heart and soul of everyone at BisB.
Unknowingly, we had built on the strong foundations of our existing brand identity. We had positively re-discovered what BisB had stood for all along; a Bank that strives to make banking less complicated and more human, a Bank that seeks "to simplify our customer's money matters".
Which brings me to the morning of the #BisB event when we unveiled our refreshed logo. One of the guests asked me why I did not opt for a complete re-brand. "Surely it's the right time, with all the groundbreaking announcement you made today!"
My reply was simple. We did not need a drastic change. The BisB brand has withstood the test of time. It defines our roots and is a reflection of our journey and our culture.
The truth is, I'm not sure what came first; did our brand identity drive our corporate culture or was our culture captured in the story of the brand identity. But there is no doubt that both are intrinsically integrated: your brand is your culture, your culture is your brand. When the two are seamlessly integrated, a legion of loyal brand ambassadors and change makers stand united, looking ahead at a horizon of endless possibilities.
At BisB, we've created this legion because we stayed true to our roots and live by the values we are most proud of. Our brand identity is a living organism. It has grown and matured with the bank, organically, naturally, instinctively. It just needed a face-lift!
Back