The only constant in life is change
10 November 2020
By Mazar Rashid Mohammed Jalal, Chief Compliance and Governance Officer, BisB
After nearly 20 years pursuing my professional career, and just as I was about to start working on my retirement plan, another challenge comes my way – COVID and its impact on business continuity and regulatory compliance. Initially, many of us thought COVID was a false alarm, and that we would go back to the normalcy of work and daily life relatively fast. But 10 months later and we are still dealing with the uncertainty of a second or maybe third wave
I think we have all come to realize that business-as-usual is long gone. Without doubt, COVID has triggered one of the greatest ever shocks to our economies and, in consequence, to existing business models. The life-changing difference was the sheer amount of uncertainty it has generated for nearly every individual, business and economy around the world.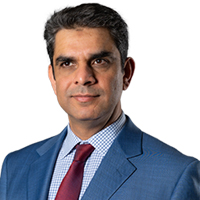 But every change has its pros and cons, and COVID is no exception. This specific 'crisis' pushed organizations across all industries to come out of their comfort zones. They were forced to test their operating models from a business continuity perspective without having a well-documented recovery plan.
Business continuity in real life situations requires the right leadership with timely decision-making skills and risk management capability; leadership that believes in change being the only constant in life.
Very often I am asked the question: "How can regulatory compliance function enforce the implementation of existing rules in a more efficient manner??". I generally like to respond with another question: "How can RegTech help organizations to implement rules and regulations in a more organized and effective manner?".
CEOs, Boards and even regulators are becoming increasingly dependent on compliance officers to help them better understand how to adjust to the new, tech heavy operating models. It requires a change in leadership mentality and skillset within the compliance function.
While many changes to business processes and operations were already being phased in prior to the pandemic, in the likes of digital transformation initiatives, COVID has provided unparalleled impetus and urgency to every contingency plan, fast tracking the pace of evolution, forcing us to run before we could crawl. Decision-makers had to make difficult choices in the face of uncertainty to safeguard their business, many times with very little concrete information to help them navigate through this crisis.
The reality is that uncertainty and risk go hand in hand.
The way I see it, in a post COVID world, it will no longer be about anticipating risk. It's about bolstering your business to better prepare for the unpredictable. Solutions need to be put in place to mitigate the growing pains that come with change, and its inevitable impact. The fact is, processes, methodologies and previous "best practices" are no longer fit for purpose in this new scenario. The same way that ECL models replaced the old way of calculating doubtful debts, reliance solely on historic data to figure out expected regulatory violations will no longer be acceptable. Predictive data analytics is the only way forward.
It's safe to assume that the compliance environment in a post-pandemic world will witness more rapid adoption of new approaches, more importantly, new technologies, as companies pursue ways of ensuring "business continuity" during disruption.
Learning the art of avoiding Zoom fatigue and how to manage your team remotely is all good and well, but for a Bank or a business, the biggest threat that immediately transpires is a far greater risk – the lack of cyber security. When we are no longer working in the confines of our office walls, we need the requisite firewalls to be incorporated in our IT network. This is vital to any business dealing with customers, to maintain data privacy and confidentiality.
In that respect, business continuity transformation is very similar to digital transformation. Just as the adoption of modern technologies in necessary in today's digital age, business continuity transformation enables a business to quickly pivot to sustain business and protect its data and customers.
It is highly unlikely that we will ever go back to the way we did things before; we need to keep our eyes on the road ahead and instill the new learnings that came about in the advent of COVID-19. By fortifying compliance with new technologies and digital systems, that will support in the creation of a more robust model of compliance continuity, the road to change will definitely be much, much smoother.
Back