The Future is all about Experiences
25 November 2019
By Hassan Jarrar, CEO, Bahrain Islamic Bank
2019 has been an extremely interesting year to say the least - from what's 'the deal' with Brexit to ongoing US China trade-wars, and the capture of the first image of a black hole in outer space. The year has also ushered in a flood of tech innovations, from the rise of social robots, AI employees, and chatbots - to Amazon Prime rocking the world of online retail with their one-day delivery service.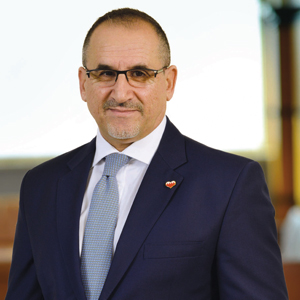 When it comes to smart phone technology, every leading brand has been upping their game for good reason. People expect to be able to do everything from their phone, whether it's snapping high quality photos, posting on social media, or checking on their kids at home while they're out. With smart homes today, people can switch on the AC, restock their fridges or cue a playlist before they even step foot in the door.
The reality today is, people have become accustomed to the ultimate level of comfort and convenience. The 'new normal' is having the ability to do everything right from your smart phone via intuitive apps or mobile-friendly websites, whether it's paying bills, shopping online, or transferring money to a friend who paid for dinner the night before. Then there's the Apple Pay and Google Wallets that have shaken up former traditional payment systems to an even greater extent, and all these innovations are made more fast and powerful with the increased bandwidth brought in by 5G. Patience is no longer a virtue of our generation.
The rising consumer expectation to have enhanced experiences – instantaneously – has transformed the face of industries. Take the TV entertainment industry for instance. Netflix is the Goliath of streaming content, killing the traditional TV content-providers of the past with its unparalleled distribution model of providing entire seasons of series at once. In fact, it has given users a voice, viewers can 'vote in' shows and it becomes instantly apparent whether certain shows will be awarded a second season. Netflix has become so established as a brand – blowing any competition out of the water.
The same 'game-changing' reality applies to Open Banking. Just as Netflix puts the TV viewer in the driver's seat, Open Banking puts the customer in charge. In the past, banks decided what their offerings would be, and priced their products accordingly – based on the competition in the market. All of that will soon change once Open Banking is fully integrated. The barriers to entry that once protected banks from their direct and indirect competition, will be completely removed. In this new 'open' world, customers will be able to access their financial data through open interfaces. Third parties – banking or otherwise –will have the ability to create a new customer experience.
One of our biggest challenges as a Bank this year was completing the integration of back-end processes in time to meet the CBB's new-found framework mandating the industry to adopt Open Banking systems by the end of June 2019. Beyond regulatory requirements, embracing Open Banking will be a requirement for industry survival.
Looking ahead through 2020, what I anticipate will be the biggest challenge facing all industries - banking or otherwise - is the need not only to maintain pace with the ever-evolving rate of technology, but also to realize what to focus on. With such niche talent requirements, companies will need to expand their in-house IT talent or outsource teams entirely in order to stay afloat.
We are moving beyond creating services that are functional and time-saving. The future is about creating a positive - almost tangible - experience that leaves a lasting impression through intelligent design, impassioned storytelling and an engaging narrative that truly taps into peoples' hearts, souls and minds.
Back