Personalised Banking: Empty Promises or Near Reality?
29 August 2019

By Dalal AlQais, General Manager of Retail Banking, BisB
Digitisation and Artificial Intelligence (AI) are the major recent topics of casual conversation around the office watercoolers and heated discussions in the executive rooms of giant tech firms and financial companies. And how to capitalize on trending technologies to personalise the customer experience. A huge gap still remains between customers' expectations and the ability of banks to deliver on this promise.
Picture, if you will, a customer named Sara.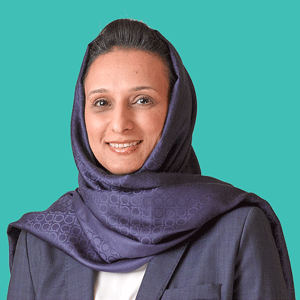 Sara, is a bright, young, 25-years-old lady who works long hours at a busy advertising agency. Like clockwork, each workday, she takes her lunch break at 1 pm sharp, making a pit stop at an ATM along the way before dining at her favourite restaurant nearby.
Imagine if Sara were to receive a message, at 12 noon that read, "Did you know there is a closer ATM near you?"
Let's take it one step further. Imagine if an AI software detects that Sara has increased her spending and is getting married, and her bank could offer her a loan. Or if a few years later, Sara gets her first child, her bank recommends starting a college saving account.
If this image makes you uncomfortable, you're not alone. But this is the future that we are heading towards. We are often resistant to what is new, until we become used to the convenience of it all. Until one day, we can't imagine our life without it. This has been the case with the advent of most technologies.
Personally, I love shopping on Amazon. I remember, however, that when I first started shopping online, I was slightly disconcerted about Amazon recommending items that I'd like. It always made me slightly anxious.
Fast forward to today, I'm utterly grateful for the service and I admit it has become a necessity for me. I love the convenience, and the excitement of opening the brown box when it arrives at my door. I also appreciate the fact that I can easily return things I don't like, place orders from the comfort of my living room couch and even track them from my phone.
This level of convenience is only possible because of the power of Amazon's AI, which monitors my shopping history and tracks previous products I've bought, often anticipating items I'd need before I even realize I need them. Using predictive technology amassed over thousands of users with similar purchasing habits as mine, Amazon recommends purchases that are right up my alley once I sign in, whether it's a book of the month I'd enjoy reading or items I buy my kids. As a working mother, Amazon is extremely convenient to me. For most people around the world in this day and age, convenience is everything.
To be fair, things get a lot more complex in the realm of banking. This is in part because we are dealing with more sensitive information, but also because, unlike the adoption of technology in any industry, it is a double-edged sword. With digitisation continuing to take over the financial industry, it has theoretically opened numerous possibilities for personalising customers' experiences. Capitalising on these opportunities to develop the right level of technology is far from easy.
As banks increasingly move away from operating out of branches to launching apps and online services, their focus remains on how to develop a cutting edge new technology, and how they will launch the product or service to effectively function in a new digital environment.
The issue with this, is that it fails to keep the customer at the heart of the product. The new product or cutting-edge service is developed in a conference room, in complete isolation from the average customer. The result is that they fail to anticipate not only how customers will actually use the technology, but if they will use it at all, leading to huge losses.
At BisB, figuring out how to navigate the world of new technology has been one of our biggest struggles. As the head of retail, I have been working closely with my department to go about personalisation in the right manner. Our challenge was how to simplify banking, and how to keep the 'personal touch' of branch-based banking in our digital channels. We wanted to protect the 'human' element, and this involves navigating the intricacies and understanding the sentiments and preferences of individual customers.
We sought the help of our IT department, transformations strategy. If we were going to understand our customer today and keep people at the heart of our products, analysing data was a good place to start. Together, we came up with a simple, yet elegant solution and developed a 'customer happiness meter' to enable us to offer our retail customers what they actually wanted.
At every point where employees interacted with customers, a rating system was embedded. From the BisB digital app, to the call center, to the Bank's online digital services, we gained essential insights that gave us a window into figuring out what customers liked, what they complained about, and the products they wished they had. Specifically, we discovered that our customers value security and seek convenience. In their busy lives, they didn't have time to go to traditional branches to open an account.
So we went ahead and created a solution. BisB's latest service, which was just launched this week, enables any customer to open an account, right from the comfort of their home from their phone using face ID.
Convenience? Check. Security? Double check.
Today, we live at a critical time. All of us are well-positioned to gather immense amounts of data and getting to the bottom of how our customers prefer to conduct their daily finances has become slightly easier. The difficulty lies in using these insights to respond effectively to our customers in a way that is human. The challenge is in finding the middle ground between resisting the urge to develop technology first as a pre-written automated answering machine script, and anticipating what customers' might not realise they need, using AI.
It is all too tempting to follow in the footsteps of our global counterparts, to copy and paste solutions that don't actually fit, and think that we are innovating. Instead we ought to use global success stories as inspiration, and harness the power of AI to develop customised solutions and a relevant, end-to-end experience for our customers. After all, isn't that what personalisation is all about?
The most crucial step in personalising an experience is listening, and allowing customers to be in the driver's seat of change.
At BisB, we're trying to do just that. All the products and services we develop are grounded in using AI as a tool to gain a deep understanding of each customer's unique needs in order to orchestrate a set of tailored experiences, across both digital and human channels.
We've tried to add the 'personal touch' to personalised banking, building deeper, more meaningful relationships that will stand the test of time. Are we closer to delivering on our promise? Definitely. But technology evolves and so do customer needs, wants and expectations. Personalised banking is real, it is happening. Yet, it is a journey, not an end destination. We need to continue to listen, to anticipate and to innovate.
Back