The Next 10 Years of Banking
28 July 2019

By Wesam Baqer, Head of Corporate and Institutional Banking
We are at a cross-road in history where virtually every industry, every sector is feeling the brunt of technology. Companies are being transformed and disrupted by what we so dearly refer to as THE 'technological revolution'. I sometimes wonder, is it our intrinsic need as a human race to want to continuously invent; or is technology that is pushing our inspiration?
Either way, this wave of transformation is taking the world by storm; pushing companies to innovate, and innovate quickly, in order to create a differentiator amidst fierce competition and to avoid the risk of lagging behind.
In addition to the "traditional" threats we still need to reckon with such as volatile economies and geo-political tensions; technological advancements have completely disrupted the rules of the game taking the playing field to an entirely new level.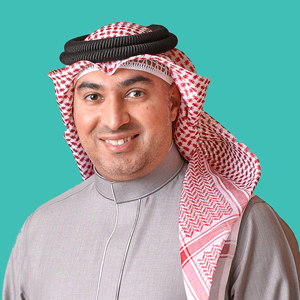 The fast-evolving digital economy has affected purchasing behaviours giving an entirely new meaning to the age-old mantra of "customer is king". Essentially customers are calling the shots and we are forever trying to figure out the "face" behind each customer in order to really dig deep into what they actually need so we can better innovate for them. This is a huge departure from previous models, which focused on product first.
Today, customers have more access to knowledge and choice and the banking industry is no exception; the shift in customers' expectations and purchasing habits is particularly palpable, and even more pronounced in the corporate side.
Given the great changes that have already transpired in the past five years alone, this brings into question the nature and shape the corporate banking industry should take in the coming decade.
For starters, gaining a competitive edge is becoming increasingly difficult. The market for financial solutions has now opened up to include tech companies who have joined the race in digital payment solutions, putting even more pressure on traditional banks to become more innovative in their product and service offerings to maintain resilience and market share. Huge investments are being made in operating structures and processes in an effort to "go digital".
Personally, I believe that in order to remain relevant in this new competitive ecosystem, banks must completely reshape their business and operating models, better yet, start from scratch.
We tried this in-house at BisB, we started from ground zero; streamlining business operations, and developing our product offerings with the customer in mind. We analyzed how our corporate customers differed from our retail customers and tried to address the gaps that existed in between. Our corporate customers needed more sophisticated levels of clearance, customized options, and more advanced levels of security in their financial transactions. As a Bank, we had already started the process of upgrading our technology and had launched a digital application, so we ensured that the corporate version was more robust, and we further built on it with all of the above requirements in mind.
Yet our efforts simply weren't enough in today's day and age. Besides the fact that the pace of change is rapid, the banking industry in itself is constantly evolving.
Perhaps we ought to redefine our business model to adapt to customer changes more holistically, more effectively. Perhaps it's time we go beyond building bigger 'digital' banks and use our imagination, creativity, and more sophisticated analysis to contend with the wave of evolution.
Bygone strategies, where banks have typically focused on digitizing outdated systems, decreasing costs and managing risks, all belong in the past. We can no longer rely on historical data to conduct our analysis; it is a recipe for disaster. The airline industry for instance, proved this and faced dire consequences. They made the mistake of calibrating new offerings based on historical data, conducting customer surveys and making huge investments to create an experience for a customer that no longer existed, a customer of the past; which resulted in huge losses as the internet age dawned.
We need to anticipate the needs of customers a month from now, a year from now, even 10 years from now. This leads us to the predicament of how to go about predicting the needs of the next generation of users, when the technology has yet to be invented? How can we, as banks, prepare ourselves to take on new challenges, and recast our relationship with technology to discover untapped opportunities?
A good start to predicting the future is to look at the past. We can formulate intelligent speculation based on real insights of past and current trends, cycles and scenarios that have impacted the industry landscape, so we can identify areas of focus and isolate barriers in advance.
It is undeniable that every aspect of corporate banking will be transformed by new technology, starting from how products are sold to how they are developed; the nature of client relationships will be put under the microscope and face tremendous pressure. In order to change carbon into diamonds as they say, we need to learn from past mistakes, and create solutions with the future in mind, combining visionary technology with more customised and personalised offerings; anticipating the needs of the market with every new generation of products, but still retain the human side to business.
At the end of the day, some things never change. Although new products will always come to life, the most valuable currency today remains an open, honest client relationship that is built on trust, transparency, and a real understanding of the clients' needs to deliver an exceptional experience that enhances and simplifies their life.
Time and again, history has revealed that it takes time to adapt, and the market is brutal and unforgiving. We are operating in unchartered territories and faced with an unstoppable force of change and a future that we can never fully predict. Our best hope to remain ahead is not to just think 10 steps ahead, but ten years ahead; working alongside new digital tools and being more action-oriented in responding to customers, deploying products faster, which transform the traditional barriers of a "one size fits all" customer approach.
Real progress never happens overnight, but as financial institutions we need to start planning from today, and changing the way we think, with our eyes on the future.
Back