08 July 2019
BisB Enables its Customers to Benefit from "Shukran" Loyalty Program

Bahrain Islamic Bank (BisB) recently signed a Memorandum of Understanding (MOU) with Al Rashid Group, a division of Landmark Group, the leading retail and hospitality group in the Middle East, enabling customers to convert BisB reward points to the Group's loyalty program, Shukran. This comes as part of the Bank's efforts to continuously improve its products and services.
Shukran is the biggest and most successful retail loyalty program in the Middle East, known for its ease of use, comprehensive options and benefits, in addition to its basic rewards.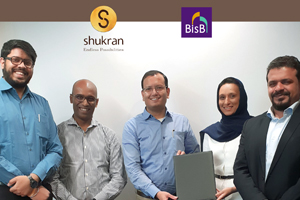 BisB's retail customers will be able to convert their reward points to Shukran points as part of the agreement, allowing customers to redeem Shukran points across a variety of retail outlets including Fitness First Bahrain, Fun land Centre, Home Box, Lifestyle, Max, Shoe Express, Splash, in addition to various Mega stores and shopping malls such as Centre Point and Oasis Mall. All customers need to do is log into BisB's digital rewards platform and choose between a wide range of reward options with utmost ease.
Commenting on the launch, Dalal AlQais, BisB Retail Banking General Manager said, "We look forward to providing an exceptional level of service for our Credit Card and Prepaid Card holders who have enrolled in BisB's Loyalty Rewards Program, enabling them to collect points easily by using any of these cards to conduct daily transactions across all Points-of-Sale, and any online purchases made locally or outside the Kingdom of Bahrain."
"We will continue to establish strategic tie-ups with leading companies in order to further expand our portfolio of services and solutions for our valued customers," she added.
Shukran allows customers to enjoy a rewarding shopping experience and can be redeemed for over a million products, across 50+ brands in 9 countries, can be earned and spent on all transactions even during promotions and sales. To name a few brands in Bahrain where Shukran can be used : Centre Point, Mothercare, Splash, Shoemart, Lifestyle, Home Centre, Max, Home Box, Steve Madden, Carpisa and many more.
Back